Principal Brian Jadwin
Phone: 208-536-5531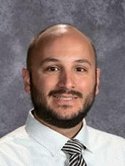 From the Principal's Desk…

SIMPLY AMAZING!! I have been spending some time getting to know the students of Wendell Middle School and I am amazed. I have been learning as I spend time with students in school and out. I am learning that the majority of students are respectful as I walk into the lunchroom I see students cleaning up after themselves and doing so with a please and thank-you. I learned that some are very determined as I attended a board meeting where I heard about the tremendous achievements of the Academic Pentathlon group. I continue to learn that most are here to learn and be good students as I have opportunities to listen to classroom discussions and hear well thought out questions and answers. I have learned that the students are filled with school spirit as I have seen how well they support their athletic teams and the cheerleaders at sporting events. And even though much of my time may be spent with a small percentage of the student body who may not be making the best choices; even they have been respectful and willing to be responsible for their choices. Everyday I see our students making the right choices to Be Respectful, Responsible, and Be Honest. I am so glad to be here and be a part of Wendell Middle School. I look forward everyday to have a chance to learn even more about the excellent students at WMS!